Golden Isles Magazine -
Funding for three of the five statues was provided by the Community Foundation in its 2015 Competitive Grant Cycle.
All that glitters may not be gold, especially if it is found on the side of the road. But Lea King-Badyna hopes residents of the Golden Isles will be looking at trash a bit differently in January and
February.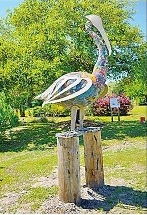 King-Badyna, who champions environmental causes as the executive director of Keep Golden Isles Beautiful, has been seeking innovative ways to tackle litter prevention after the organization received two grants to fund a creative project to take on litter in an unconventional way. With the help of the city of Brunswick, Glynn County, the Golden Isles Convention and Visitor Bureau and Golden Isles Arts and Humanities, the organization has taken an artistic approach to preventing litter.
Starting on January 30 and extending for five days, art sculptures will be installed in public areas across Glynn County. The sculptures — a heron, manatee, pelican, shrimp, and right whale —
have a metal mesh exterior and a hollow interior to hold trash that will be collected by volunteers who attend the installation ceremonies. "This community art and environmental education project will serve as a cultural destination point for local residents and tourists alike," King-Badyna says. "We hope the custom sculptures will spark dialogue and encourage stewardship regarding litter and our valuable coastal resources."
"The Communities of Coastal Georgia Foundation is delighted to have partnered with KGIB to support this innovative project," says Dr. Valerie Hepburn, past President and CEO of Communities of Coastal Georgia Foundation, which gave one of the two grants funding the project. "For Coastal Georgia, our environment and natural resources are precious and deserving of our utmost respect. 'Make Art Not Litter' is a great way to engage both our community and our visitors in the important work of stopping litter before it starts."
The community is invited to attend each installation ceremony, which begins with a cleanup at 3:30 p.m.: January 30 at North Glynn Sports Complex; January 31 at Overlook Park; February 1 at Mary Ross Park; February 2 at Blythe Island Regional Park; and February 3 at the Old Coast Guard Station beach parking lot.
For more information, call 912-279-1490 or email info.kgib@gmail.com.