Keep Golden Isles Beautiful KGIB's public sculpture with a purpose: Installations combine litter and animals to show the two don't mix
By LARRY HOBBS 02.01.17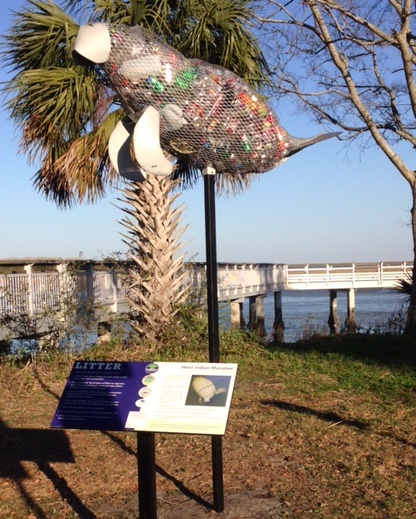 The bright multicolors of the manatee sculpture at Overlook Park on the marsh in Brunswick will catch a visitor's eye even from the parking lot. So will the tall blue heron sculpture that now sits on a high perch at the North Glynn Recreation Complex. But a closer look will reveal that those attractive hues are emitted from such discarded litter as plastic cups and soda bottles and aluminum beer cans and energy drinks. The two might combine to make pretty art, but litter definitely does not mix well with these animals in their natural environments, said Lea King-Badyna, executive director of Keep Golden Isles Beautiful. That is the message of the organization's new litter campaign, which is being unveiled this week at parks throughout the Golden Isles. Each day the group is unveiling a new sculpture at a public park, including a pelican statue at Mary Ross Park on the waterfront in Brunswick today. The animals are sculpted of a steel mesh shell and are hollow inside. At each unveiling, volunteers will join Keep Golden Isles to conduct a cleanup sweep of the park. The sculptures' insides will be stuffed with all the plastic and aluminum litter that is collected by the volunteers. On the base of each statue is a plaque with a carefully worded narrative regarding the animal and its natural habitat, as well as the damage our litter does to both. "I think these will be very educational, because you will see the juxtaposition of the critter and the litter," King-Badyna said. "It gets your attention. And then there is this educational component that will explain to you the negative affect the litter has on the critter and on his environment. That way people can understand that we don't want these coastal critters swimming or living in this litter."
Today's unveiling of the Pelican sculpture at Mary Ross Park has a special educational bonus for the volunteers who turn out to help clean up. All participants will get to take a free tour of the
M/V Ocearch, a shark research vessel docked at Mary Ross Park for the winter. Anyone who wants to join the Keep Golden Isles Beautiful group for a tour of the boat can turn out at 3:30 p.m. today for the cleanup, King- Badyna said. "Anybody can come out and help," King-Badyna said. "They just need to show up. We're happy to have volunteers."

Rounding out the week will be a shrimp sculpture unveiled at Blythe Island Regional Park on Thursday and a right whale sculpture unveiled Friday at Coast Guard Station Beach on St. Simons
Island. Both begin at 3:30 p.m. The sculptures were created by Jim Swain, an environmentally-minded artist out of Myrtle Beach, S.C. The sculptures were paid for by grants from the Communities of Coastal Georgia Foundation and NOAA's coastal management department, King- Badyna said. She got the idea to spread her organization's anti-litter message through public art from an Oregon based group called Washed Ashore. Closer to home she found Swain's artwork flourishing in the Carolina Lowcountry. "It's there to show them not to put trash into the environment," Swain said of his artwork. "And it shows what it can do to the animals in that environment." Information accompanying the local sculptures includes research backed by marine biologists with the state Department of Natural Resources, King-Badyna said. "Our intention is not only to be educational, but to spark a dialogue about the problem of litter," King-Badyna said. "We want to start people talking about litter as real problem. We're always thinking of ways to deliver the same message — don't litter." Apparently, many people in the Golden Isles are getting the message, she said. Hundreds of local residents volunteered nearly 20,000 hours toward to Keep Golden Isles Beautiful projects in 2016, she said. Those volunteers picked up 92 tons of litter that went to landfills last year and recovered another 113 tons of recyclables that litter bugs tossed on public grounds. In 2015 the organization's volunteers picked up 65 tons of litter and recovered 60.7 tons of discarded recyclables. "The whole purpose of Jim Swain's sculptures is to inspire people to do what we're going," King-Badyna said. "We are making a difference by spreading litter prevention awareness." Those looking for volunteer opportunities with the organization can visit its website at kgib.org.