Fund aims to support agencies providing hurricane relief
By Lauren McDonald
In the days immediately after Hurricane Irma hit the Golden Isles, Salvation Army workers were out in the community helping people in need. Coastal Georgia Community Action Authority workers were distributing diapers, toiletries, cleaning supplies and more. They helped people who were burdened by an expensive evacuation pay bills and relocate to new homes. America's Second Harvest food pantry helped feed more than 3,000 people. These agencies were among the first to provide aid after the storm.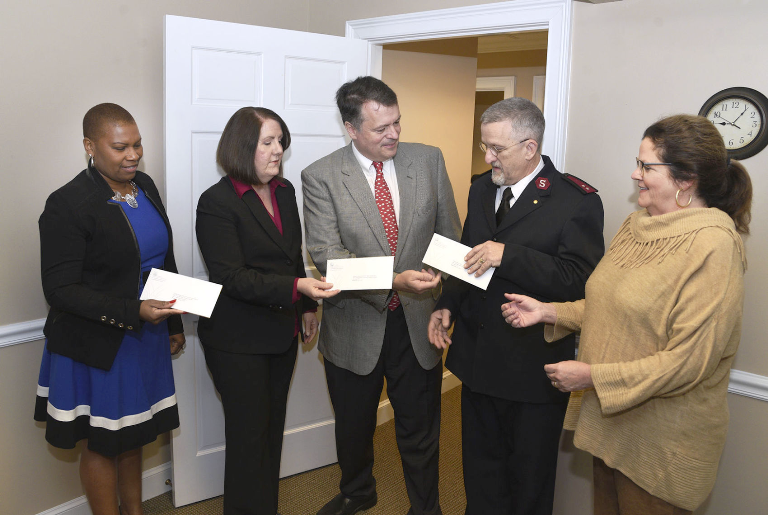 Bobby Haven/The Brunswick News
United Way of Coastal Georgia President and CEO Virginia Brown, second from left, and Communities of Coastal Georgia Foundation President and CEO Paul White, center, hand checks to Coastal Georgia Community Action CEO Tres Hamilton, from left, Salvation Army Captain Chris Powell, and America's Second Harvest of Coastal Georgia Community and Agency Relations Coordinator Kalista Morton Wednesday from the new hurricane recovery fund.
They received thanks Wednesday in the form of monetary donations from a new fund established by the United Way of Coastal Georgia and Communities of Coastal Georgia Foundation. "These dollars will not by any means totally reimburse them, but it is to recognize and to bring attention to the great risk that they took to their organization to help people in need," said Virginia Brown, President and CEO of the local United Way. After Hurricane Irma blew through the area in September, the United Way and Communities of Coastal Georgia Foundation came together to establish a Community Emergency Needs Fund to support charitable agencies that deliver direct assistance to local residents affected by the storm. The two agencies made the first donation from the fund Wednesday. They designated the first allocation of money for agencies that stepped up immediately after the storm. "These three agencies in particular rose to the top of that list because they didn't spend a lot of time looking at their individual budgets and saying 'Can we afford to help people?'" Brown said. "… They said 'There's a great need. We need to help now.'"
United Way Worldwide created the United Way Irma/Maria Recovery Fund this year to support communities in the Southeast United States and the Caribbean affected by hurricanes. For the first time in the local United Way's history, the agency received funding from United Worldwide through this initiative. United Way received and allocated the first installment of $22,500 on Wednesday. Captain Chris Powell, corps officer of the local Salvation Army, said the donation will allow the organization to continue offering its services, such as distributing meals through its food pantry and paying rent and utility bills. "As usual, just like with United Way, we're trying to make sure that we're taking care of our community," Powell said. There is still great need in the community due to the storm, he said, and most of the Salvation Army's budget relies on donations. "Without funds like this and without partnerships with our partner agencies, it makes it hard for us to do our job," Powell said.
More donations from the Community Emergency Needs Fund will be made next year. The fund provides a vehicle for private money to come into the community, Brown said. "(The Federal Emergency Management Agency) has been extremely generous with us in this community, but we know that FEMA money is sometimes delayed and that it doesn't meet all the needs," she said. "There needs to be an easy, well-organized way where funders from not only here in our community but across the country can give their generosity." The first distribution of money aimed to honor those who leaned forward immediately after the storm to provide help, Brown said. "I think this is a good way to end a year — celebrating our nonprofit heroes as well," she said.