The Brunswick News
At its June meeting, the Communities of Coastal Georgia Foundation voted to award grants,totaling $62,000, to 16 community-based organizations serving Glynn, Camden and McIntosh counties. The 2016 competitive grant cycle focused on programs serving at-risk youth and their families.
In addition to donor-advised and field of interest grant-making throughout the year, the Foundation annually conducts a competitive grants cycle which targets specific areas of need and opportunity across the three-county region. Strengthening the services and partnerships of local,not-for-profit service organizations is part of the mission of the Foundation, and the grant process is designed to further this mission. Four of this year's 16 grant recipients are first-time awardees. This year's grant funding is being provided from the Foundation's Community Impact Fund with supplemental support from board members through their Donor Advised Funds.
A grant of $5,000 to Communities in Schools of Glynn County will support high-school students in their professional development with tools that include the Birkman Personality Assessment, interview coaching, first impression, self-leadership and communication/customer service training. Forty qualified junior and senior Communities in Schools high-school students who are seeking job and/or college opportunities will be selected to participate.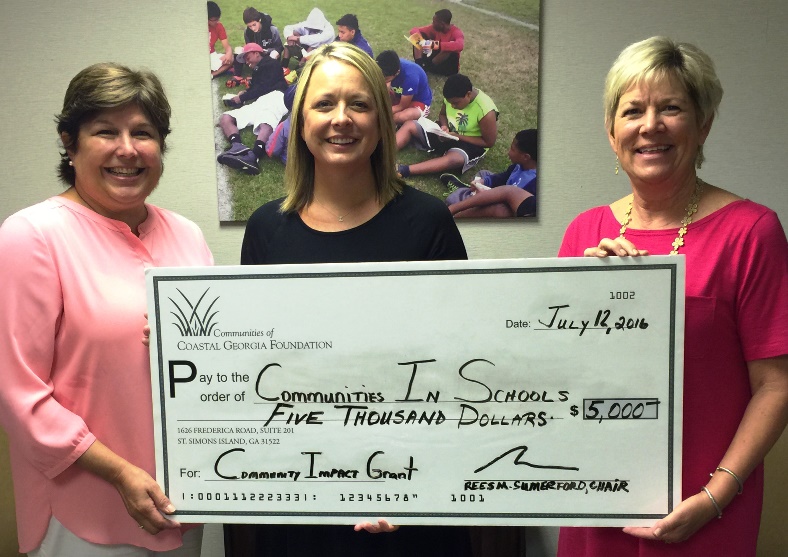 L-R: Sandi Channell, board member, Communities of Coastal Georgia Foundation, Lynn Love, Executive Director, Communities in Schools and Bonney Shuman, Board member, Communities of Coastal Georgia Foundation.