Read this month's Georgia Trend article about Communities of Coastal Georgia Foundation Founder, and new Georgia Trustee, Jim Blanchard.
By Karen Kirkpatrick (Georgia Trend, February 2016)
SERVANT LEADER
Even in retirement, Jim Blanchard continues to make the world a better place while empowering others to do the same.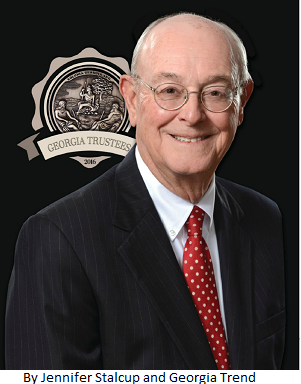 There are people who pay lip service to the idea of servant leadership, spouting good words while leading a company and its people off a cliff, or business leaders so firmly fixed on the bottom line that they don't raise their eyes for a good look at their employees.
Then there's Jim Blanchard, a man whose name is said reverently and with a smile, almost as if he were George Washington (a leader he greatly admires). As CEO, Blanchard ran Synovus for 35 productive and profitable years, from 1971 to 2005. At the same time, he grew the financial institution into one of the best places to work in the country by modeling the very definition of servant leadership.
For living the motto of the original Georgia trustees, "Not for self, but for others," the Georgia Historical Society (GHS) and the Office of the Governor have named Jim Blanchard, 74, a 2016 Georgia Trustee.
"There's a term that we hear and that I think has been used to the point of almost overuse, which is servant leadership," says Todd Groce, president and CEO of the GHS. "But to me, Jimmy Blanchard is the epitome of servant leadership, in the sense that the servant leader is one who cares about the people who work for him or her. The true entrepreneur and capitalist is really someone who sees their role as making the world a better place through commerce and through business. To me, Blanchard is just a model of that."
Blanchard has his own definition. "I think the whole concept of servant leadership is based on a service attitude toward others," he says. "I think the real root of it is a respect and appreciation and admiration, empowerment of others, preparing them to do the job well, developing trust, recognizing them for good work and rewarding them."
He says that running Synovus on the idea of servant leadership was the most important decision he made while at the bank, and it was a decision that got a lot of notice from others, including Forbes, which named the bank the Best Place to Work in America. In fact, the company was inducted into the magazine's Hall of Fame in 2005, after being named to the list every year since 1998.
"His concept of the culture that they had in their company, I would say was a culture of a combination of trust and love," says Gardiner Garrard, chairman of the Jordan Co. and a longtime friend and business associate of Blanchard's. "In particular, the people gave good service to their customers, they were satisfied in their jobs and they were respected. That made a huge difference in the success of the company."
GEORGIA SON

Blanchard, an Augusta native, didn't set out to follow in his banker-father's footsteps. His father moved up in various community banks, landing the top job at Columbus Bank and Trust Co. (CB&T, which became Synovus) and moving the family to Columbus when the younger Blanchard was in high school. He attended the University of Georgia and UGA's law school before returning to Columbus and a law firm there.
But the Turner family, local leaders and members of the board at CB&T, had different ideas. In June 1970, at the age of 28, Jim Blanchard was selected as president at CB&T following the death of his father from lung cancer. Blanchard remembers the shock he felt when D.A. Turner, then chairman of the board, offered him the job.
"I told them I can't even balance my own checking account," Blanchard says. "How can I do that? They said they would help me with that, but they wanted me to come."
It turned out to be a great decision for Blanchard, for the bank and for the city of Columbus.
Blanchard's small bank now has approximately $28 billion in assets. Not only has the company received recognition as a good place to work, but Blanchard himself earned positions on most admired leader lists more often than you can count.
"He started with a very small bank in Columbus," Garrard says. "I got on [the board] the same year they asked him to be the president of the bank. ... He and I did a lot of traveling and entertaining customers in those days. We were the same age, and everybody else involved down here was older than we were, so we did a lot of things together, golfing, hunting, whatever."
But Blanchard didn't spend all of his time doing whatever. He also grew the bank. "The second biggest [decision I made while at Synovus] was probably the creation of the one-bank holding company that we formed in 1972 that was created with the idea that the law of Georgia would change and allow holding companies to acquire banks outside of their headquarters city."
Blanchard was right on the money with this idea, which the legislature began to allow in 1976. "On Jan. 1, '76, we made application to acquire a couple of banks," he says. "We were the first ones under the new act to actually utilize the act and acquire banks in LaGrange and Thomasville." And again, people took notice of his leadership style. "Over the years, he got other people to sell their banks to Synovus," Garrard says. "I always said that they would look at their situation and they would look at Synovus's situation, and they saw Jim Blanchard. ... If you want some empirical evidence that he was a good leader, look at the number of people who wanted to sell their banks to Synovus and pick up that leadership team he had."
TSYS
Blanchard still had another game-changing decision to make with the creation in 1983 of Total System Services (TSYS), the credit-card processing company that grew out of Synovus and spun off in 2007, and it all started with a conversation in an airport.
"One of our top executives, Lynn Page, was in an airport with a fellow from a bank in Tampa, Florida," Blanchard says. "He was complaining about his credit card processor. Lynn indicated to him that we would be interested in talking to him about doing it.
"That was in 1974, when we were actually looking for opportunities to utilize some unused time and capacity in our computer operation. We said, 'Look, we've got this great credit card software that we've developed. We could process other banks.'"
And the rest, as they say, is history.
"Lynn and several other key executives in our bank card and operations area were instrumental in the concept and the startup and the building of that company into the largest processor of Visa and MasterCard now in the entire world," he says. Today, TSYS processes some $1 trillion in credit and debit card transactions per year.
Blanchard's legacy continues at Synovus and TSYS. Today Synovus owns 80 percent of TSYS, which in 2014 had $2.4 billion in total revenue and in 2015 was named to the Ethisphere Institute's list of the World's Most Ethical Companies.
COMMUNITY MINDED
While Blanchard was building the team that built Synovus and TSYS, he was also making a tremendous difference all over Columbus. He was instrumental in the creation of Uptown Columbus, the organization founded to support quality development of the city's central business district that is now so much more, with housing, retail and restaurants, and whitewater rafting on the Chattahoochee. He also served on and chaired boards too numerous to mention, including the Greater Columbus Chamber of Commerce and United Way of the Chattahoochee Valley.
His only criteria, he says: He wanted to work on projects where he thought he could make a difference. It's an approach to life that comes in part from the people who have inspired him over the years.
"I'm inspired by many, many, many examples of people who are leaders, athletes, elected officials and just plain old folks who give a darn and give a lot of themselves," Blanchard says. When pressed, he names three who have been important to him.
"From a historical standpoint, my favorite role model is George Washington. He had every opportunity in the world to be appointed the king. He, of course, turned it down, realizing that would not be the best thing for this country. He was a selfless leader. He was strong and dominant, yet humble and appreciative of the opportunity to serve.
"The second one is my wife. She lives the word of God through the Bible on a daily basis better than anybody I ever saw. That's been a great guide for me. She's a great wife and a great mother and a great grandmother. She is an inspiration to me."
Third, Blanchard cites another local leader. "I've been inspired from my early beginning here as a teenager by a fellow named Bill Turner, who is the grandson of the founder of Synovus. He was the person that I reported to on the board of directors of CB&T when I came in." Blanchard says he was told at the time, "'Bill is the guy you want to look to for strength and direction and leadership as the president of our bank.' Bill's 93 now, and I'm still looking to him. I've always thought he's the most ultimately fair person that I've ever met."
THE NEXT CHAPTER
In retirement (Blanchard left Synovus in 2006), he's as committed to the practice of servant leadership – and to exposing as many people in the Southeast to it as possible – as he was at the bank. The Jim Blanchard Leadership Forum at Columbus State University serves as a very successful delivery method for spreading the word about servant leadership. Blanchard conceived the idea and got the backing of Synovus as part of his retirement package. The first forum was held in 2006 with four speakers. The 10th anniversary this past year featured George W. and Laura Bush, along with their daughter Barbara. Other speakers have included Condoleezza Rice, Doris Kearns Goodwin, Ken Blanchard (no relation) and Gen. Stanley McChrystal.
"As far as the forum is concerned, we have focused primarily on servant leadership," Blanchard says. "We've brought in some of the greatest advocates of that leadership style over the last 10 years. It probably has created a leadership environment in this community and in this region that is a unique strength for Columbus."
"I've been to every one except the first [only] because I didn't know about it. I always learn something," Groce says. "To create this learning environment where the kind of principles that Jimmy Blanchard has led his life and also the kind of principles that he's practiced in business, those kinds of things can be taught to younger people."
When Blanchard isn't working with the Leadership Forum, he is still very involved in boards, nonprofits and with his family – his wife, Sis, and their three sons, who all live in Columbus with their families. "I'm still very involved in the TSYS board. I'm on a couple of private company boards," he says. "The bulk of my wife's and my focus today is on faith-based kinds of organizations. We are still very interested in a lot of the civic and educational and the arts and the other things, but our main focus as far as activity and our resources would be going to faith-based outreach kind of organizations."
One of these organizations is Global Teen Challenge. Blanchard serves as chairman of the advisory board. "Teen Challenge is a residential program for people suffering with life-altering addictions, mainly drugs and alcohol," he says. "We're in 110 countries, 1,200 centers and [have] just over 30,000 residents all over the world. It's headquartered right here in Columbus."
He's also on the board of Ken Blanchard's organization, Lead Like Jesus. "It's an organization that advocates servant leadership," Blanchard says. "The concept is that the world is in tremendous need of better leadership role models and that we've seen what self-serving leaders do in almost every aspect of society. His book and his teaching have gravitated toward using Jesus as an example of leadership, in that he was totally selfless and was there to serve others rather than to be served."
It sounds like an organization tailor-made for Blanchard's leadership style. Which brings us back around to servant leadership and the example Blanchard sets every day.
"Remember those ads on TV with these giant pumpkins, and this guy says, 'How'd you get one of these giant pumpkins?"' Garrard says. "The other guy says, 'I put some of this Miracle Gro on it. It grew to be an 80-pound pumpkin.' I think Jim, he grew people. If you look at what he's done today since his retirement, a lot of people retire and don't do anything. He's doing as much as he's ever done. And all of that is for other people.
"If you look at his impact on Columbus and on the state as a whole, he's always been perceived as somebody who achieves what he sets out to achieve. And people got to the point where he was like the leader of a winning team. People wanted to be on his team. He achieved a lot of things by not only getting people together, but holding them together."
And that's what he plans to do for the future. "I continue to work, continue to serve in many capacities. I aspire to continue to grow as a husband, as a father and a grandfather," he says. "I do think the world is darker and needs people who are, as the Bible would say, 'salt and light.' And that's what I aspire to be."