(Brunswick, GA) - Community Emergency Needs Fund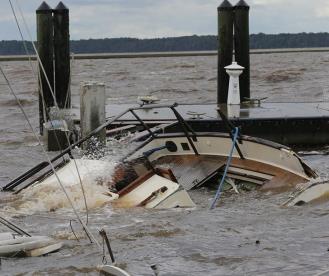 On the heels of the second major storm to hit the Georgia coast in as many years, United Way of Coastal Georgia, Communities of Coastal Georgia Foundation, FaithWorks, and The Sapelo Foundation have joined forces to establish the Community Emergency Needs Fund to provide support to those charitable agencies delivering direct assistance to coastal Georgians affected by Hurricane Irma.
Though the coast of Georgia was hit hard, and was actually designated as a primary disaster zone, most of the storm related damage was to private property. As such, there will not be the need for large scale public support as is the case in Texas. However, because of the extent of the storm, many of our most vulnerable citizens will experience significant, albeit temporary, economic hardships while the local economy recovers.

During this recovery period, many citizens are in transitional housing and temporarily unemployed due to no fault of their own. There will start to be a significant need, we feel, in the next weeks or so for food, housing and social support as those citizens lost employment, suffered significant economic setbacks and/or were displaced. As mobile kitchens and storm shelters move on or close their doors, coastal Georgians affected by the storm will have significant needs during a period of transitional instability.

The United Way of Coastal Georgia and the Communities of Coastal Georgia Foundation are well acquainted with the most effective and flexible social service agencies in our region. An assessment of the "post storm" capacity of each of these agencies is well underway. And while almost all those organizations experienced little or no storm related physical damage, none are fully prepared to meet the short and medium term financial burden that will be created. As rents and utilities come due, pantries are restocked, clothing and furniture are replaced, homes are repaired and local businesses come back on line, it will be these agencies who will work to support our most vulnerable citizens through the transition. It is our task to make sure that they have the resources needed to be successful.
The distribution of funds will be overseen initially by a committee comprised of representatives of the United Way of Coastal Georgia, Communities of Coastal Georgia Foundation, FaithWorks, and The Sapelo Foundation and advised by emergency relief organizations with expertise in primary disaster recovery. Grants will be awarded only to charitable/ nonprofit organizations and not to individuals.

Funding will support relief efforts of nonprofit agencies working and collaborating to meet disaster-caused unmet needs of the community. Many gaps exist between actual disaster victims' needs and state and federal resources available. The initial focus of this fund is designed to address immediate unmet needs such as basic health and safety needs that require immediate financial assistance. Future grants will support intermediate and long-term needs as identified and funding is available. Examples (not a comprehensive list) of immediate unmet needs nonprofit organizations are working to address may include items, such as:

· Food and food supplies
· Prescription and medical supplies
· Basic financial assistance (examples: utility/rent or destroyed household items)
Donations can be made to Communities of Coastal Georgia, 1626 Frederica Road, Suite #201, Saint Simons Island, GA 31522, or to pay by credit card on our secure site: "click this link".

If you have any questions:
United Way of Coastal Georgia Contact:
Virginia Brown - 912.265.1850, virginia@uwcga.org
Coastal Georgia Foundation Contact:
Paul White - 912.268.4442, pwhite@coastalgeorgiafoundation.org