Coastal Illustrated
At its June meeting, the Communities of Coastal Georgia Foundation voted to award grants, totaling $62,000, to 16 different community-based organizations serving Glynn,Camden and McIntosh counties.
The 2016 grant cycle focused on programs serving at risk youth and their families. The Community Foundation annually funds areas of need across the region. Strengthening the services and partnerships of nonprofit service organizations is part of the mission of the Community Foundation; the grant process is designed to further that. Four of this year's 16 grant recipients are first-time awardees. This year's grant funding is being provided from the Foundation's Community Impact Fund with supplemental support from board members through their Donor Advised Funds.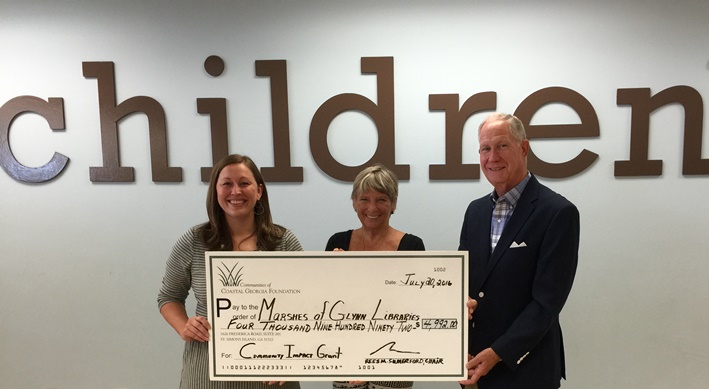 A $4,992 grant will continue the Targeted Early Literacy Parental Involvement Initiative through the Marshes of Glynn Library System. Building from the Foundation's successful Baby Steps Initiative,the library system educates parents and caregivers on the importance of developing early literacy skills for their children.
L-R: Geri Mullis, Library System Director, Jane Lafferty, Library Board, and Jack Kilgore, Foundation Board.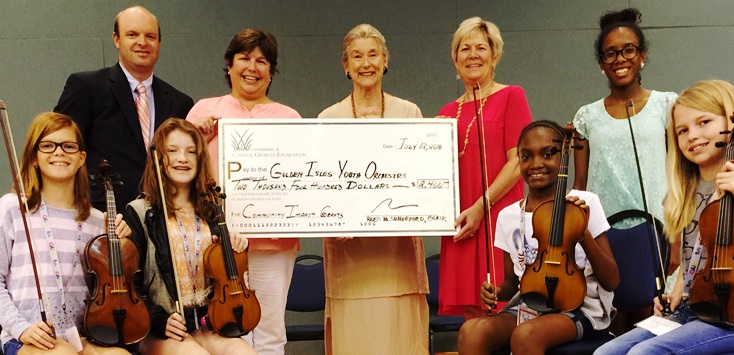 A $2,400 grant will help Golden Isles Youth Orchestra with String-On, which gives fifth graders exposure to orchestra.
Pictured: GIYO students seated, L-R back row, Eric Davis, GIYO Board, Sandi Channell, Foundation Board, Ann Leggett Perse, GIYO Board, Bonney Shuman, Foundation Board, and Mamie Lue Small, GIYO Instructor.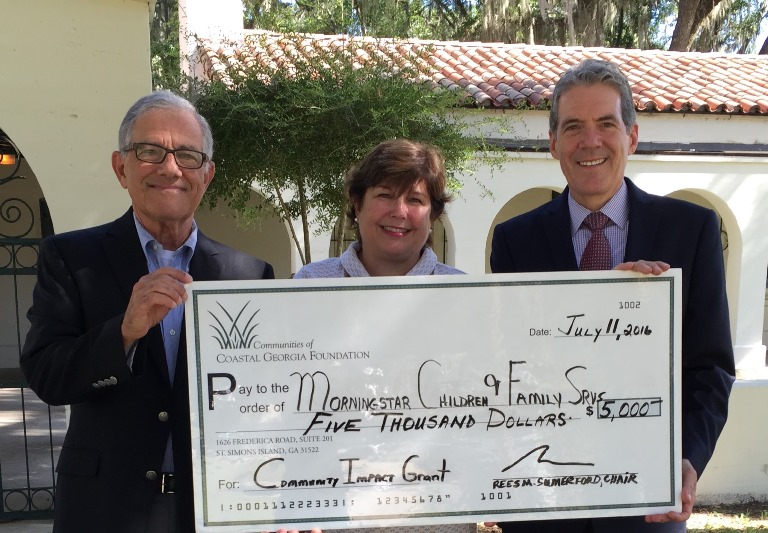 A $5,000 grant to Morningstar Children and Family Services Inc. will support the art therapy program for youth in foster care. Most youth at Morningstar have suffered abuse and neglect; art provides the opportunity to safely express emotions while increasing self-awareness and self-esteem.
L-R: Martin Miller and Sandi Channell, Foundation Board Members, and Paul Knowlton, Morningstar CEO.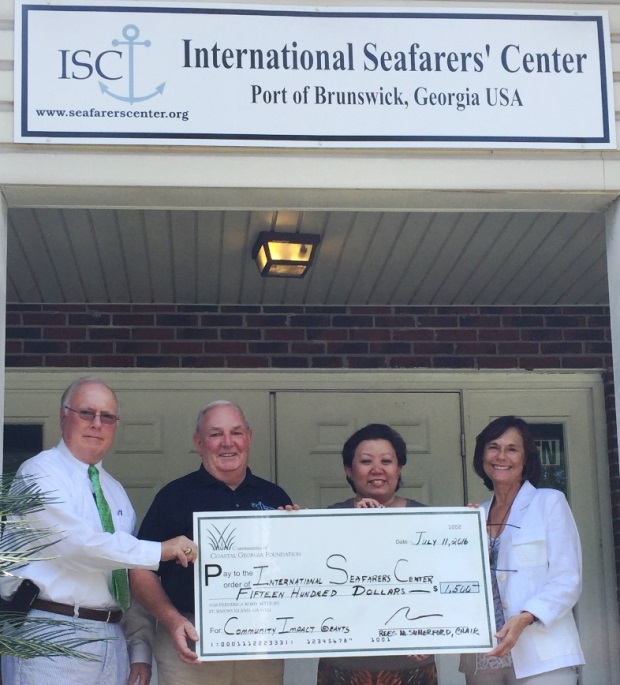 A $1,500 will help the International Seafarers Center purchase a video camera and voice recorders for Port-as-Classroom, a specialized curriculum for middle and high school students. Port-as-Classroom teaches students about maritime shipping, geography, sciences and the global trade system.
L-R: Bill Dawson, Center Board Member, Jack McConnell, Port-as-Classroom Program Director, Valerie Crumpton, Center Executive Director and Mary Root, Foundation Board Member.