By LARRY HOBBS The Brunswick News |Posted: Friday, January 15, 2016
Brunswick police officer Jody Vicent conducts his patrol activities these days with an extra set of eyes perched just above his uniform's right shirt pocket.
The body camera on his u
niform not only assists in documenting evidence and capturing accurate presentations of criminal activity, but it also records Vicent's conduct in all his police engagements with the public. This troubles Vicent not a bit. I welcome it," Vicent said of the body camera, which he is wearing on a trial basis. "Put the camera on me. I don't mind it. It will make my job simpler." Simpler perhaps. More effective, thorough and transparent policing are other reasons that police agencies around the country are adopting the new technology.
Police Chief Kevin Jones said he hopes soon to equip all of Brunswick's officers with the body cameras. Vicent has worn several different body camera brands recently in testing for the department. "I think we all agreed a long time ago we want our officers to have body cameras," Jones said Monday during a City Commission planning session. "Realistically, I would like to start out with at least 40 cameras."
Finding the money to pay for it is another matter, as the system's body cameras, central server and data bank package could cost nearly $40,000, Jones said. The department received a $16,000 Justice Assistance Grant recently that it will put toward the effort, but that is only enough to outfit a handful of officers, Jones said. "It would cost about $32,000, plus the server is another $4,000 to $5,000," Jones said. "We have $16,000 from the grant but we need more funding to outfit our Patrol Division, at least."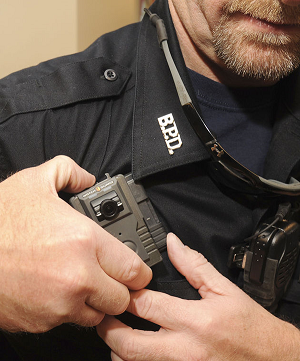 The Glynn County Police Department is already making the transition to body cameras, a move that has been paid for by a matching grant program from the Communities of Coastal Georgia Foundation. An anonymous donor pledged up to $50,000 last fall to the county police department, with a challenge to the community to match it dollar-for-dollar. That drive achieved its goal and will wrap up next week, said Valerie Hepburn, President and CEO of the Foundation.
Hepburn said the total raised in that drive will be announced during a presentation at an upcoming County Commission meeting. She added that she would welcome a new matching grant challenge for the Brunswick Police Department's effort to outfit officers with body cameras. Any interested person or organization that wished to donate the seed money for the matching grant should contact the Foundation, she said.
"We would be willing to work with any donor, any organization, that is willing to help out the city," Hepburn said. "These body cameras help out officers and it helps out citizens. No question, we would love to figure out how to equip all officers."
Body cameras certainly provide greater transparency of police conduct, a big issue with protests over police shootings grabbing headlines nationwide. But the body camera is a welcome addition to the tools that police officers use to be more efficient and effective in their work, Brunswick Capt. Angela Smith said. "It increases the accuracy of interactions with the public and the accuracy of witness statements," Smith said. "It also gives follow-up investigators a second look at what the officer saw. It increases the credibility of the officer, but it also increases the credibility of the citizen." Vicent has witnessed this first hand. "Whether it's on or not, people act completely different when they see you have that body camera," he said.
Anyone who wishes to start a matching grant fund for the police department's body camera drive can contact Hepburn at 268-4442, or email at: .