Baby Steps Creates Literacy Center at Head Start
The African saying, "It takes a village to raise a child," was clearly in the minds of the Glynn County volunteers, educators, businesses, and local philanthropists who gave so generously to transform a drab, grey cinderblock room at the Glynn County Head Start School into an "under-the-sea themed" literacy center that opened April of 2013.
The room was another effort in the "Baby Steps" Early Literacy Initiative of the Communities of Coastal Georgia Foundation to offer age-appropriate literature in a "print-rich" and visually stimulating environment. The community foundation plans to open several more literacy centers, accessible to children in areas where there are low income families. Plans also call for trained community volunteer readers to staff the rooms for regular readings.
A giant octopus, smiling shark, schools of fish, crabs, hot pink coral, and blue waves, are among the images that brighten the walls and bear print labels, thanks to the amazing artistic talent of early education teacher Amy Kramer and renowned local artist Nancy Muldowney, both of whom also directed the volunteers who offered assistance in transforming the room.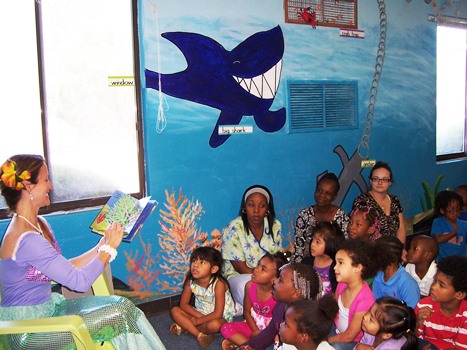 Baby Steps Coordinator Maryellen Aiken added face-front book case displays and more than 300 books provided through donor contributions to the Baby Steps initiative at the foundation. Head Start was also able to provide two "smart board" type computers for the children to benefit from interactive literacy technology.
"It is imperative to provide children with the tools they need to learn how to read very early in the education pipe-line, and there's no better place to do this than at a Head Start program where we can reach well over 200 three and four year old children," said Lee Owen, executive director of Communities of Coastal Georgia Foundation, whose mission is to improve the quality of life in Coastal Georgia by promoting and increasing philanthropy. "The room was a "perfect storm" of talent and generosity – from the creative genius and passion of Amy, to the sweat equity of teachers and parents, to the guidance from the College of Coastal Georgia's education department."
The goal of Baby Steps is to help ensure that every child in the community, no matter what socio-economic level, is ready to read and ready to succeed when they reach kindergarten. Providing better access to books and print-rich environments is just one of several ways that Baby Steps is accomplishing this goal – and making a "splash!"