The Brunswick News, By Lauren McDonald
Smartphones were held high in the air, and some parents even stood on table seats to get a better view, as their children performed the classics.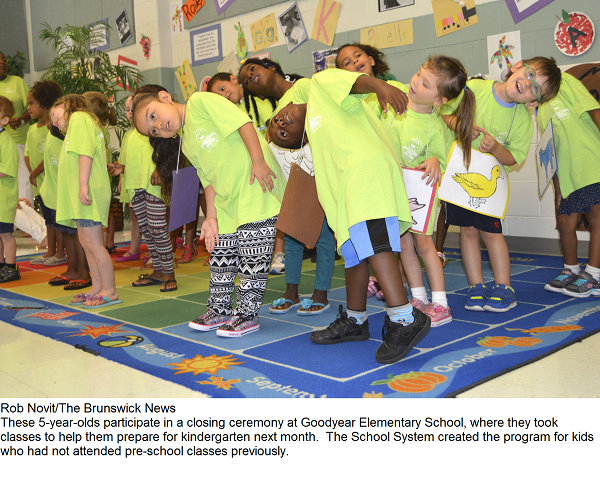 At the closing celebration of the first Jumpstart pre-school program on Friday, 30 soon-to-be kindergartners read "The Very Hungry Caterpillar" followed by a performance of "Brown Bear, Brown Bear, Where Are You?"
These four and five-year olds have spent the month of July preparing to start school on Aug. 11, in a program launched this year to emphasize early childhood education.
The Glynn County Jumpstart Summer Pre-Kindergarten program aimed to help students who had no previous pre-school experience.
"We were trying to give them a jumpstart on kindergarten expectations," said assistant principal Kathleen Hambright.
Glynn County teachers worked with the students daily from 8 a.m. to 1 p.m. They learned to identify numbers, shapes and colors, while also developing social skills and beginning to learn to read.
The Communities of Coastal Georgia Foundation provided a $40,000 grant to fund the pilot program, said Valerie Hepburn, the Foundation's President and CEO. "We have a long-standing focus on early childhood literacy and education for at-risk kids," Hepburn said. "When this idea got hatched...it just made sense to invest and give it a chance to be piloted."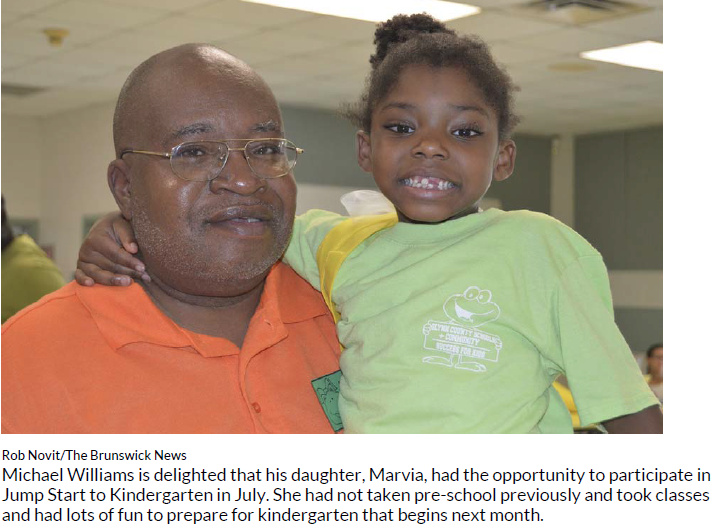 After including additional training and other costs, the foundation will have donated a total of about $50,000, Hepburn said, all directed toward improving early childhood education in Glynn County. "When you think about the per-child investment, if this helps make these kids successful going forward, it's a tiny, tiny drop in the bucket," Hepburn said. "The payoff is huge."
The school system collaborated with the Marshes of Glynn Libraries and the Saint Simons Rotary Club's Reading Rockets program, to emphasize literacy skills for the pre-schoolers. Volunteers with the Reading Rockets program came each day to read to the students. Geri Mullis, Director of the Marshes of Glynn Libraries, said the students collectively read more than 300 hours. And she encouraged parents to continue reading to the children at home. "Just like feeding them to help their brains grow, you need to be reading to them to help their minds grow," she said.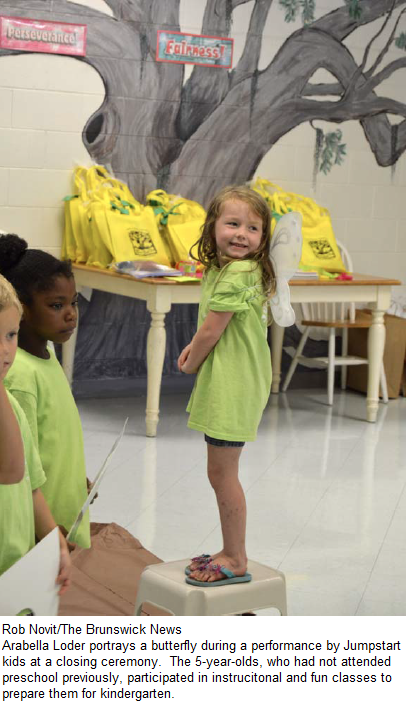 Sung Hui Lewis, Executive Director of Early Academics for the school system, also urged parents to get involved with their students' educations and to join the Parent Teacher Association at their schools. "Our whole goal is to see your child be successful, that's the bottom line," Lewis said.
Parents are key to that success, said Oatanisha Dawson, Jumpstart's principal. Without parental involvement, she said the Jumpstart program could not have worked so well. She said she's heard fantastic feedback from parents about Jumpstart, including one parent who said that her child was no longer afraid to ride the school bus. "Independence is key with the little ones," Dawson said. "They have to learn to do almost everything on their own that we take for granted, like opening their pack of ketchup or using their utensils."
Ann Williams, a parent who attended the closing celebration, said the Jumpstart program prepared her daughter well for the upcoming first day of kindergarten. "To know that she's excited when she comes home after class is great," Williams said.
Turning to the students at the end of the program, Lewis gave them a final word of encouragement. "When schools starts soon, I want you to be up and ready, and to say 'I've got this,'" she said.