For forty years as owner of Sadye's, with locations first in downtown Brunswick and later on St. Simons Island, Raymond Baumel helped to
advise and clothe local fashionable women.
To them he was the arbiter of good taste, quiet elegance, and style. Many also fondly remember his wife Elizabeth "Billie" Cowen Baumel, with whom he traveled the world in the hunt for the perfect new styles and jewelry to bring back to the women of the Golden Isles. Also remembered was a succession of "Abernathy" Yorkshire Terriers - each one, in his time, a permanent fixture at Raymond's feet by his desk at the store.In Raymond's generosity, he always reached out to those who needed a hand up. He had a special place in his heart, however, for abandoned or abused dogs. When Raymond died April, 2011, he sought through his estate to provide for "dog" welfare here in coastal Georgia for generations to come. He established the Raymond & Elizabeth Baumel and Abernathy Fund for Animal Welfare at the Communities of Coastal Georgia Foundation and in doing so has created a lasting legacy as well as a permanent income stream for the care and sheltering of stray and unwanted dogs from the interest earned on the endowment.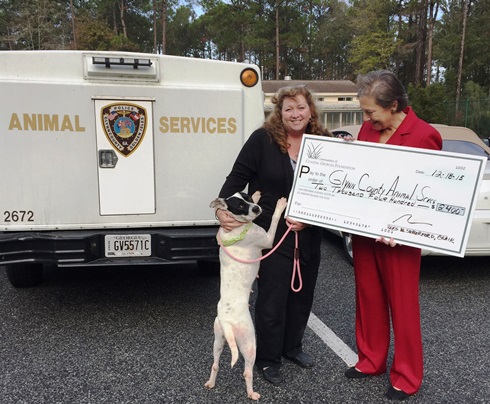 Annually, gifts have been made to the Humane Society of South Coastal Georgia and Glynn County Animal Services. L-R: An enthusiastic Costa, Pet of the Week; Julie A. Holmes-Taylor, Glynn County Animal Services Manager; and Valerie A. Hepburn, PhD, President and CEO of the Community Foundation.