The Communities of Coastal Georgia Foundation has selected Keeva Kase to serve as its new President/CEO, beginning in April 2023. Most recently, Kase served as President/CEO of BCM Georgia, a faith-based housing stability and financial education nonprofit organization in Buckhead, Atlanta.
F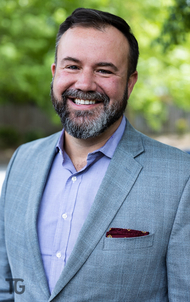 or more than 20 years, he has served nonprofits along the Atlantic coast. A local to St. Simons, Kase earned his Bachelor's degree in Religion and Philosophy from Berry College and went on to earn his Master of Divinity from Princeton Theological Seminary. Keeva and his wife, Lauren, have a son, Ketch, and a daughter, Claire. The family loves the beach and traveling, and are thrilled to be closer to family and friends.
The Executive Committee of the Board of Directors led the search assisted by Valerie Hepburn, Ph.D., a past President/CEO of the Foundation. The selection process included three half-day sessions, one in each of McIntosh, Glynn and Camden Counties, the Foundation's primary service area. Board Chair, Hillary Stringfellow, shared that the selection process allowed the committee to evaluate candidates but also to share with candidates the focus and emphasis of the Foundation. "Keeva Kase is a local son who is returning to his Coastal Georgia home after pursuing higher education and experience in management, administration and operation of charitable organizations. He has experience in all aspects of philanthropy and is excited to use his talents to engage donors as the mission of the Foundation is advanced. The Board welcomes Keeva, and his family, and is excited for the next phase of Foundation leadership as the Foundation nears its twentieth anniversary."
About the Foundation
The Communities of Coastal Georgia Foundation was incorporated in 2005, as a tax-exempt public charity created by and for the people of Glynn, McIntosh and Camden counties. The Foundation now has assets in excess of $45 million and hosts more than 110 distinct funds. Since its inception, the Foundation has awarded more than $27.5 million in grants to community organizations in the three-county region and beyond.
Strengthening Our Communities through Engaged Philanthropy